Buy Straight or Curved Stairlifts from Freedom Stairlifts Today
Regain Your Freedom with a Stairlift
Straight or Curved Stairlifts from your Local Dorset Stairlift Business
If you are finding the stairs increasingly difficult to manage then a stairlift may be the best and most cost effective solution. Stairlifts are certainly cheaper than moving to a single story house or remodeling the downstairs of your current home. A stairlift is a great way to maintain your independence.
book your free
survey today
Straight Stairlift information & Costs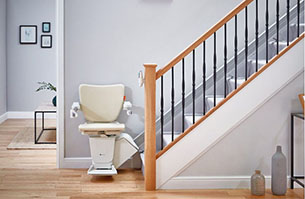 Installation normally within 7 days,
Cheaper solution than a curved stairlift,
Can be installed on staircases with flat turns,
Suitable for internal and external straight stairs.
See our straight stairlift range
curved stairlift information & costs
Installation normally within 14 days,
Can be installed on most staircases,
Suitable for internal and external curved stairs,
More expensive than a straight stairlift solution.
See our curved stairlift range
Previous Reviews
I thank you and all concerned for the way things have been handled in such a short space of time.
Mrs FA. Brooks
Very pleased with the Service and Installation of stairlift, both people were very helpful and polite.
Mrs D. Wheadon
We would certainly recommend your firm.
Mr J. Radcliffe
I would like to say that you provide a first class service from start to finish. Thank you.
Mr G Philpotts
We are very satisfied with the service and the installation men were first class!!
Mrs Holder
We are delighted with the stairlift – peace of mind
Mrs Conner
Thank you for arranging a very prompt curved stairlift fitting.
Mr BD. Usher
It is so good (and unusual!) to receive such prompt, pleasant treatment. Please thank everyone concerned!!
Mrs FC. Easy
A job very well done, the engineer was very polite and quick, we hardly knew he was in the house, everything was left clean and tidy.
Mr V. Baker
Why are we Better?
Because we have access to several leading stairlift manufacturers and due to the high volumes of stairlifts that we purchase, we are able to purchase stairlifts at a much better rate than if you were to purchase directly. We pass these savings on to you with the same peace of mind and aftersales service from the manufacturer that you would get if you went direct.
All of our stairlifts are installed with a full stairlift manufacturer's parts, labour, call-out and annual service warranty. Complete peace of mind in the knowledge that you can call 24 hours a day 365 days a year and any unforeseen problems will be remedied as quickly as possible.
Save money with Freedom Stairlifts today
We strive to be as competitive as possible and know that we can find you the most affordable solution in regaining the freedom of your home. Whatever your requirements, from a standard straight stairlift or the most complicated curved stairlift with a multitude of bends, to an outdoor stairlift or one with a heavy duty bariatric option. We always ensure that our customers always find the right stair lift solution at the right price.